Day 4 - 9 Top End (Darwin) and the Outback
(renamed to Top End, 'cause Darwin is just a little wee city in a HUGE area of the Northern Territory...)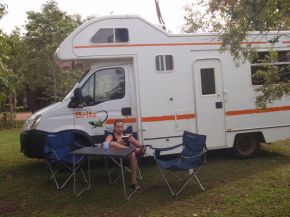 On Monday we were catching an early afternoon flight to Darwin to start off on our Outback adventure. We arrived to sunny and windy weather (better then the torrential rains we expected !). Once we had the caravan the big challenge was finding a place to park 'the beast' while we did the grocery shopping. Overheight and extra long ?!?!?!
We also saw our first Aboriginal people and were amazed at how really dark brown their skin and eyes are. Many were barefoot although I'm not sure if this is by choice or hardship. With blond hair and untanned skin - I think we were the ones that stood out abit.
Litchfield National Park
Once we got ourselves sorted it was off the Litchfield National Park. Along the way we saw really huge termite mounds and really small kangaroos (wallabies). This part of the Northern Territory is a stunning landscape of deep terra cotta color soil and lush green trees/shrubs. We had expected to find only a flooded desert !
Our first camping spot was certainly not 'deluxe' and fell short of the internet description...The 'pool' being a big above ground metal tub and the price being expensive. It was late so we decided to stay anyway and then we tried to 'recall' the training video on how to hook up the gas and water without blowing up the caravan! The saving grace to this camp spot was that there were wallabies everywhere so that was fun !
On Tuesday we packed up and went to see Wangi Falls, Buley Rock Holes and Florence Falls. Any one of these natural wonders would be a treat to see in a day but to be so easily accessible that we could visit all 3 in 1 day was really great !
Wangi Falls
Wangi Falls you walk out on a sand bar and can swim the last few meters to arrive at the base of the falls. We also took a short hike up to the top of the falls and saw spectacular views of forest for miles in all directions. A yellow snake of some sort took a nip at my hikers so that was a non-too-subtle reminder that we really were in the 'Outback' !
Buley Rock Holes
Buley Rock Holes is a series of natural pools that are joined together by a mini-river/falls. Some of the pools are deep while others are small and shallow. Many people climb down from 1 to the next until arriving at the big pool at the bottom. Here we met a family from Perth that were travelling around Australian for 2 years in a truck/camper with 2 small children !
This is the advantage of travelling in the 'off season'...we meet Australians on holiday instead of Americans on holiday.

Florence Falls
Florence Falls was another beautiful spot with lush green plants growing in the wall behind 1 set of falls and a huge fan of water coming down the other one. We climbed up to the lookout to see the top of the falls where the river feeds in and also another amazing expanse of forest canopy for miles.
All of these places had big parking lots...and lucky for us they were all empty ! Normally this would be 1 month into the rainy season so not an ideal time to travel in the Northern Territory - today we are glad 'The Wet' has held off abit this year.
Our camp spot this night was much better with hot showers, a proper pool and a true Aussie man with tattoo's and accent ! ... "'Right then, jus' park it wherever ya like and your all set then Doll !"
A major thunder/lightning and rain storm was the evening's entertainment. Who needs Television ?
The next day was well...Bizarre to say the least. We cleaned up the trailer (and ourselves !!!) and headed out to continue south. The plan was to stop off at Edith Falls on the way ...we arrived there in the full heat of the day (40+) and so decided to opt out of the 2 klm hike up to the viewpoint. Still can't believe that this area is supposed to be 'flooding' right now ? We went for a quick dip in the lower pool with a promise to try to return on the way back.
As we were travelling down the highway I spotted a 'dust cloud' off the side of the road...Soon we realized it was a TWISTER ! We guesstimate about 30-40 feet tall. We drove past it as the leaves caught up in it blew against and over our camper and the funnel crossed the road behind us. YIKES ! Apparently cyclones are 'common' at this time of year - we saw the evidence by way of full size trees uprooted on the side of the road)
The final adventure for the day was that Enya had a fever for over 24 hours...I thought she had heat stroke until she started coughing alot...we decided to take her to the hospital in Katherine town before we headed into the National Park. A couple hours and a couple hundred dollars later - they advised it was just an upper respiratory cold and to take over the counter fever reducers till it ran its course. Within 24-48 hours she was doing alot better so that's a relief !
Nitmiluk National Park (Katherine Gorge)
At the end of this day we entered the Nitmiluk National Park, luckily Alex had checked out the brochure and found that the park campground had a terrific pool and good facilities. The park is managed by a team of both non-aborigines and aborigines in an effort to ensure the land is respected and historical significance is reflected and protected. The result is that the Interpretive centre is an interesting and informative mix of environmental science and aboriginal legend.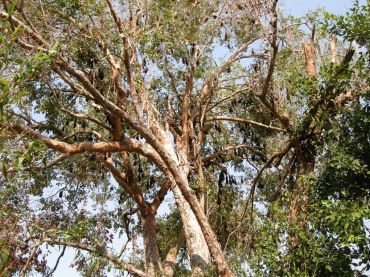 The next day we got up early and went for short 2 klm hike up to see Katherine Gorge. The panoramic views are great although the water level is low compared to what it should be at this time. We debated the helicopter tour but at $ 285 for 1.5 hours - we decided to skip it. There were hundreds of bats in the trees along the edge of the water and the noise was deafening although it was really neat to see them so close up. With temperatures above 40 degrees at 10 a.m. we decided it was back to the pool for a 'relax' day. Alex and Enya made friends with a wallaby in the evening so be sure to check out that video. (coming soon - they take too long to upload so cant post yet)
Edith Falls
It seemed abit cooler the next day...We did some more work on internet then headed north towards Edith Falls again in hopes that some cloud cover might allow us a hike up to the upper pool. Although the hike up turned out to be only 1 klm...it felt like about 10 klm since the temp was in the mid-40's !!! The falls were much smaller then they should be at this time due to no rain but the good news was that
nobody
else was there so we had our own private oasis. Excellent.
Mount Bundy Station
We continued on to 'Mount Bundy Station' which is a real taste of the Northern territory as it is a working ranch/stables also offering camping/accommodations for the night. With 1000 head of cattle, many work horses and guests coming and going - these folks are working hard every day. The next morning it was early up as we (the city slickers) went horseback riding before the full heat of the day kicked in. Sue (the owner) took us on an informative trail ride and even took the time to teach us some basic riding techniques. She had a surprising perspective on a couple things...
Firstly that kangaroos are PESTS - We kringed when she said "we sometimes go out for a 'shoot em up' to get rid of some !"
Secondly that baby cows are PETS - We all fell in love with the little guy shown below :-)
After the ride we enjoyed a very refreshing dip in the pool and then it was packing up and on the road back to Darwin.