Day 10 & 16 - Cairns - Cape Tribulation
Our first impression of Cairns is that it is a really gorgeous area. The combination of mountains, lush green rainforest and long sandy shoreline make for a stunning aerial view when we flew in. It's like Mexico only a whole lot cleaner ! We checked into our resort then took a dip in the pool to cool off. Partook in a frosty 'beverage'... (So what if it was before noon in Cairns...it was 5o'clock in Vancouver so why not ?) - we decided to venture into town to check out the local market and shops, it's like a combination of Robson Street and Granville Island all mixed into the same block.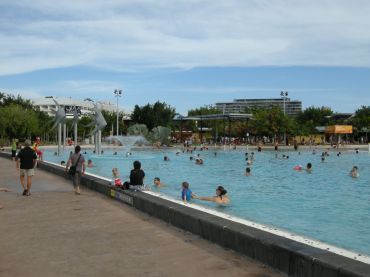 There is also a ENORMOUS public lagoon/wading pool in the middle of everything because the beach is not swimable... (sharks ? stingers ? yikes !). There was tons of people of all ages splashing around and having a blast - pretty neat to see that in the hotel/shopping area. The park surrounding has public grills for use so people just bring there picnic and cook up their food in these group barbecue's. Very social and laid back atmosphere. By the early evening it was easy to see that nightlife is just as vibrant as the daytime in this city...Our impression - these Aussie's know how to have fun.
Dec 07 - Cairns
Alex had a great time rafting the Tulley River near Cairns. It was a different experience then REO as the drops were more 'stepped' and one section was solid rock lava flow so it was like rafting through a slide with the same rock on either side.
The trip was really long with about 5 hours of rafting on the river, perfect day for it since it was slightly overcast so it kept the blazing Aussie sun off. The girls went shopping and had a fun time at that as well including getting lost abit - luckily the Australian men are all too willing to lend a hand with directions ☺ ! In addition to a HUGE mall we also came across a really neat little tea and choc shop for a treat and also checked out the 'Pandora' jewellery shop. In the evening we drove north up the coast along a beautiful scenic oceanfront road and entered the beginning of the rainforest at Port Douglas.
Dec 08 - Port Douglas
Enjoyed a lazy day at the beach and in town. It was quite hot and sunny and since it is Stinger (box jellyfish) season the ocean in this area is off limits. There was a section where they had stinger nets so it was safe but only a very small portion of '4 mile' beach ! The town was quite small and mostly a tourist shopping haven. We decided that the cool and refreshing pool was the flavour of the day and so we hung out and Enya made some friends from Bundaberg (OZ) and Calgary !
Dec 09 - Great Barrier Reef
This day we tackled the Great Barrier Reef. We had gorgeous blue sky and a calm ocean ( Nadja was VERY Thankful for that as the boat trip is 1.5 hours to get to the outer reef). Alex and Enya decided to take the scuba class and both really enjoyed their first dive to 12 meters. The instructor was really good with Enya being abit nervous. They 'met' Nemo and also were followed around by a large red fish with some scary teeth who kept nipping at the instructors wetsuit ! Overall our impression of the reef was that the mountains and variety of coral were outstanding however the snorkelling was abit anti-climatic compared to other places we have snorkeled. I would say that to truly appreciate the Great Barrier Reef - you would need to do a full scuba dive and venture to a more secluded part of the reef. A lot of fun just the same and the underwater submersible ride was pretty cool with some upclose and personal views of beautiful fish.
(note - Seem to loose a lot of color taking picts under water!!)
We decided that dinner at the hotel restaurant was a good idea after a long day and we all turned in early - abit tired after the sun and swimming.
Dec 10 - Cape Tribulation
This day was a sight seeing day as we headed further north towards Cape Tribulation. We stopped off at Mossman Gorge for a stretch of the legs. We later heard that the waters at Mossman are know for their high mineral content and so are very good for your hair and skin and are thought to have healing powers. We were hoping to go for a hike here but they are upgrading the trails to make them elevated pathways to ensure less damage to the forest floor. In general the Aussies are really good at making the scenic areas accessible without being invasive to the natural growth and habitats.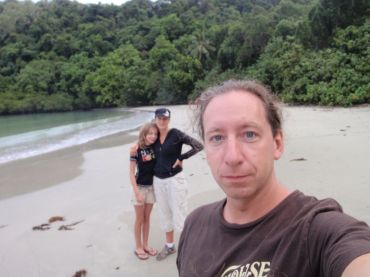 Continuing on our way we stopped off at Newell Beach and enjoyed a private little picnic on a gorgeous beach. Again no swimming due to stingers but it was a relaxing break just the same. After crossing on the small car cable ferry into the Daintree Rainforest we were shocked to see how suddenly the enviroment changed. We were now in the thick, lush jungle and small windy roads. We stretched our legs at the Daintree Discovery Centre and climbed the tower to get an awesome view of the forest canopy above the treetops. IT was pouring rain and so we decided to move along and find our next stop for the night.
We stayed at the Ferntree Rainforest Lodge in Cape Tribulation and this was really a unique experience. The cottage has a great loft for Enya which gave it a 'treehouse' feel as the room upstairs is all glass. The gecko's choose this room as a place to hang out and Enya was thrilled at the 'company'. The property is truly right in the rainforest and they've managed to maintain a 'natural' feel even though they offer all the amenities of a resort. This first day was pouring rain and so we really understood what it is like to be in the rainforest and Alex even convinced the 'girlies' to come out for a night walk to see the frogs, lizards and other creepy crawlies.
Dec 11 - Jungle Surfing!!
We woke up to sunny skies and a refreshing breeze which we welcomed as today we planned our jungle surf tour in the morning. This is a series of ziplines but also served as an educational experience as the guides were very knowledgeable on the rainforest and ocean ecology. This area is unique in that the rainforest basically stops at the beach where the ocean begins so the ecosystem cycle is like none other on earth and they are passionate here about ensuring that it is sustainable and not interfered with. There are more species of plants in a 2 klm area then in North America and Europe combined. We all enjoyed the 'rides' on the ziplines as being a highlight of our trip.
The afternoon was spent exploring local beaches and the pools at the resort ! In the evening after it cooled down abit we went on the Dubuji boardwalk. This was audio extravaganza as the various rainforest animals are most active in the evening. We were walking along one part and heard this really loud noise that sounded like construction when we realized it was frogs on all sides of us ! I no sooner commented that the frogs must be the size of Enya's head when Alex captured one of the culprits on video/photo...Small little thing the size of Enya's hand ! This place just keeps bringing more surprises. The trees, mushrooms, insects and birds are all so completely different then anything we've ever seen. Can't say enough about these sights and sounds.
Dinner tonight was at the lodge restaurant and was definitely one of the best pasta meals that Alex or I have had. A real treat for under $ 50 for the 3 of us. Generally food and alcohol in Australia is expensive (especially the booze!) so to get a 5 star meal at a reasonable price is not something to overlook. We will definitely have to give these guys a great review on trip advisor...The service, food, accommodations and amenities are excellent. The population of Cape Tribulation is just 52 people so they rely heavily on tourists for their income and since they've focused on sustainability - they really have a fabulous experience awaiting people.
Dec 12 - Kuranda Skyrail and Railway
After driving back south towards Cairns we went to the Skyrail and Scenic Train to/from the small town of Kuranda. The Skyrail is a 7.5 Km long cableway that goes over the Rainforest on a series of towers. The highest point is a station at 545m up ! Yikes.
Once at the top their is the small tourist town of Kuranda that has open air markets and shops selling everything you can imagine (whether Australian or not !). Surprisingly ...boots, belts and hats made from crocodile or kangaroo leather are not considered to be taboo ! We wandered thru town, had lunch and did abit of shopping.
The return journey back down the hillside is by scenic historic train that has been running since 1871, it was shaky and noisy but provided some great scenery and information along the way. You can only imagine what it must have been like for the workers and their families that built this railway thru the rainforest - many lived in tents on the hillside where they were working.
There were some really huge waterfall scenic lookouts however since the 'wet' has also held off in this area...we had to use our imagination abit to truly appreciate what this would look like in full force. Lucky for us though it was a gorgeous sunny day so we could see alot further around and thus the pictures came out nice.
We finished back at the Shangri-La Resort at the marina for some pool time and delicious pizza dinner. Tomorrow it's off to Brisbane !