Day 17 - 25 - Brisbane to Fraser Island and Back again...
We have to say that our 1 piece of advise to reduce stress in Australia is to take a GPS with you when driving in and around Brisbane. We requested it upon pick up of the car but the clerk was 'less then cooperative' for some reason so in order to keep things moving along we accepted the 'map' instead. This was a phone book size manual - no exaggeration !!!
We finally arrived at our hotel and were promptly upgraded to a suite with a bedroom. Cheese and crackers arrived shortly after and we went for a short walk around the area soon forgetting about our driving stress.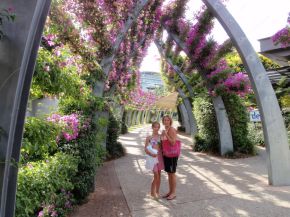 The city lagoon in Brisbane was REALLY crowded and abit dirty - not the same experience as in Cairns at all. However, we did enjoy this neat open air food court with a bakery and 'Boost' Juice so we were all set for some more reasonably priced breaky and lunch. Enya found a cute little dress in the market for $ 10 to wear for Christmas - it's funny to be buying a sundress to wear on Christmas Day. Also in the area was a huge ferris wheel that is lit up at night and a beautiful Nepalese building left from a World Expo. That evening we needed to cash some travelers cheques and so the hotel advised we do this at the casino since they are close by. Due to my 'inappropriate' attire ( flipflops, shorts and tanktop) they advised that I couldn't come in. However with abit of good ol' girly chit-chat - they decided that it would be okay if one of the security guards should 'escort' me in and out to do the transaction. That raised a few eyebrows on the casino floor !
The next day we decided it was time for some 'kid' type fun so we went to the Water World amusement park. There was 1 ride that you sit in a big square 4 person raft and get shot out of a tube into a giant funnel to slide up and down the sides...great fun!
There was a roller coaster where all 3 of us could go together and a water spray park with a massive big bucket at the top that dumps a huge wave of water down upon the everyone standing/sitting/laying on the ground below. A new twist on water-slides - there was 8 twisted slides at the top - then a green light so that everyone races down on these rubber mats to see who was quickest.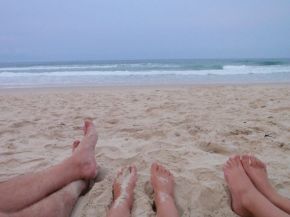 On a tip from the hotel concierge we drove thru the very commercial and crowded 'Surfers Paradise' Beach and instead stopped to have fish and chips and play at Burleigh Heads which is just south. The surfers were really entertaining and luckily the ocean is safe to go in here = no stingers) so we jumped in the waves and only left reluctantly when it started to get dark.
Moreton Island - Tangalooma
Next day was off to the passenger ferry/catamaran to go to Moreton Island. Although the hotel and meals were ridiculously overpriced there was a fabulous snorkeling spot and dolphin feeding that was free so the math balanced out in the end.
The snorkeling is done in a place called 'The Wrecks' which is just a walk up the beach from the hotel. There have been some hollow ship hulls (real or manufactured ?) that have been sunk into the shallow sand and thus have created a habitat for loads of marine life. The area is shallow and the locals come and feed the fish so they rarely swim away or hide. The abundance of fish and variety was excellent and the fact that is was fairly shallow and sandy bottom was really nice for Enya as she could stand and rest often. We swam with huge schools of fish and Alex took some video of a large fish that he stalked for a while which is really cool.

We had hoped to go sand-boarding (like tobogganing but down the sand dune) However it was a 1 1/2 hour tour and the heat and time just didn't allow for us to do this and snorkeling a so we had to skip that. (Alex: Just found out I might be able to do this at Hawks Nest!! TBA... )
The dolphin feeding program is organized by the hotel. The restrictions are very strict in order to ensure the safety of the dolphins. They only feed them about 10% of their needed diet so that they still hunt as normal and also the guests are not allowed to touch the dolphins as this has been shown to stress them. They have between 9 -14 dolphins that come on a regular basis and Enya and Alex fed 'Echo' who was a 17 year old male (I was the official videographer).
In the morning we went back off the island and headed to pick up our Britz Bush camper 4WD (WITH GPS INCLUDED !!!). This compact camper is simply a 4WD landcruiser with a bed or two squeezed in. Very close quarters but we were very thankful for the high ground clearance and rugged design in the days to come.
Australia Zoo
We made a stop in at Australia Zoo (this is managed by the Steve Erwin family). Alex finally got to see his crocodile and by the size and behaviors that was exhibited - I can tell you I was most relieved that he never saw one in the wild ! The zoo is really neat in that for the kangaroos, koalas and birds - the guests enter the fenced in habitat to walk amongst them. The koalas are amazingly cute and really lazy during the day. Apparently they get very stressed and can scratch badly when handled so the zoo doesn't allow the 'cuddling' that some places do. Overall the message for conservation and respecting the animals was well communicated.
Noosa Heads
We wrapped up today at Noosa Heads at a caravan park that was inhabited by as many lorikeets (small parrots type birds) as there was people. A dip in the pool and playing cards in the evening was relaxing, also there was no bugs here so we were able to sleep with the camper doors wide open so that was really nice.
A beach day was planned and so we went into town and checked out a section of Noosa Heads beach were a lot of kids and beginner surfers learn to surf. The tides were just right for body boarding and so we rented a board and played in the waves for a couple hours. After some wandering thru shops and having lunch on the beach we made our way to the Queensland Parks office and gathered info about the next days trip to Fraser Island including that the beach is only passable for about 1 hour before/after low tide in some areas so you have to plan your drive very carefully to ensure you don't get easily bogged/stranded somewhere - Now there's a most useful piece of information ! Wrapped up the day with laundry, purchase supplies and general preparations for the trip tomorrow.
Fraser Island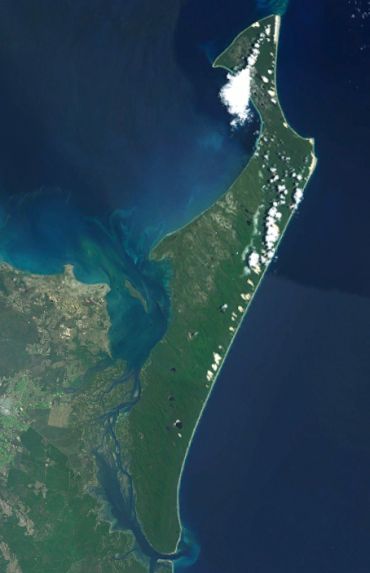 Fraser Island is the worlds largest sand island. Just a short ferry (Barge) trip off the Aussie coast, Fraser island is part of the "Great Sandy National Park" (Arnt the Aussie's great at naming things!) and stretches for over 120 Kilometers. No paved roads. (well a couple small bits around the 2 resorts on the island). To get around you need a (good) 4X4. The main "highway" is the beach down the east cost.
According to Aboriginal legend, when humans were created and needed a place to live, the mighty god Beiral sent his messenger Yendingie with the goddess K'gari down from heaven to create the land and mountains, rivers and sea. K'gari fell in love with the earth's beauty and did not want to leave it. So Yendingie changed her into a heavenly island - Fraser Island
Our first experience of driving in the sand was that we came to the beach to board the barge, to discover that 2 cars in front of us were bogged ! Hmmm...okay so we pulled to the side and watched some of the 'experienced' drivers come flying off the ferry barge and realized that a running start was helpful. Alex quickly got the hang of it and over the course of next 2 days we assisted several others in getting 'unbogged' while we managed to avoid getting stuck ourselves. Kudo's to our fearless leader and the meaty little truck that we rented. The beach is hardpacked at low tide but the inland roads were especially bad due to the recent lack of any rain.
We made our way to Lake Mackenzie where we all were dumb-struck by the beauty of this place. White soft sand beach and lake bottom, the water is crystal clear FRESH water as it is spring fed and filtered by the sand...There was only a couple other people there which we discovered the next day is a real treat for this spot.
(Look close.. Those 2 little dots just left of center are Enya and Nadja)
Before it started getting dark, we headed back to "Central Station" to our camping spot (another 8k of bumpy sandy "roads" ) We pulled into our campsite for the night to the siren like sounds of the Cicada's and once they quieted down, the volume was continued by a group of about 10-15 German tourists who kept up till well into the night. (Ugh).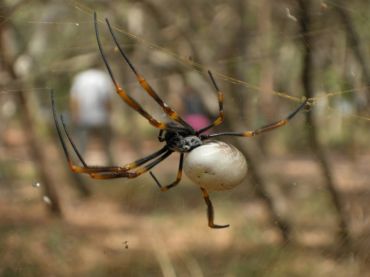 Due to the rough night and rougher driving conditions we elected to shorten our time on Fraser Island by 1 day and so in the morning we headed out for a 'sight seeing' day to fit it all in. We went back to Lake Mackenzie and enjoyed a refreshing swim although it was much busier now. After an 'outback' wash ( read : rain storm) we made our way back to smoother beach driving. We stopped at Red Cliff (gorgeous cliffs with rust colored sand). The Wreck (a rusted ship hull on the beach) and then we watched a small plane take off right up the beach in front of us ! We made our way up to Indian Head and the Champagne Pools. As we got there at low tide there wasn't much water washing into the pools so we had a quick dip to cool off and then decided to go into camp and come back in the morning. A short drive into Waddy Point camp where we found a pleasant quiet campground with some very welcome showers ! We met a couple ( he was French and she was Turkish and it was the first time she'd ever left home...) so we swapped some stories of our experiences so far and had a good laugh as she squealed about the frogs in the campground.
Next morning we packed up and headed back out to the Champagne pools - since the tide was higher there was much water rolling over the rocks and loads of fish (and people). The photo's can't do it justice as it really feels like swimming in champagne as the water bubbles all over you. Even the smallest kids could chase the fish in the shallow pools without fear of being washed away or stung by stingers as is the risk on the beach. We hung out here for a couple hours before heading back to take our ferry barge off the island. Pretty funny to think about driving 80 klm/hour for almost 2 hours straight down along the beach ! Gives you an idea of how big this 'island' really is.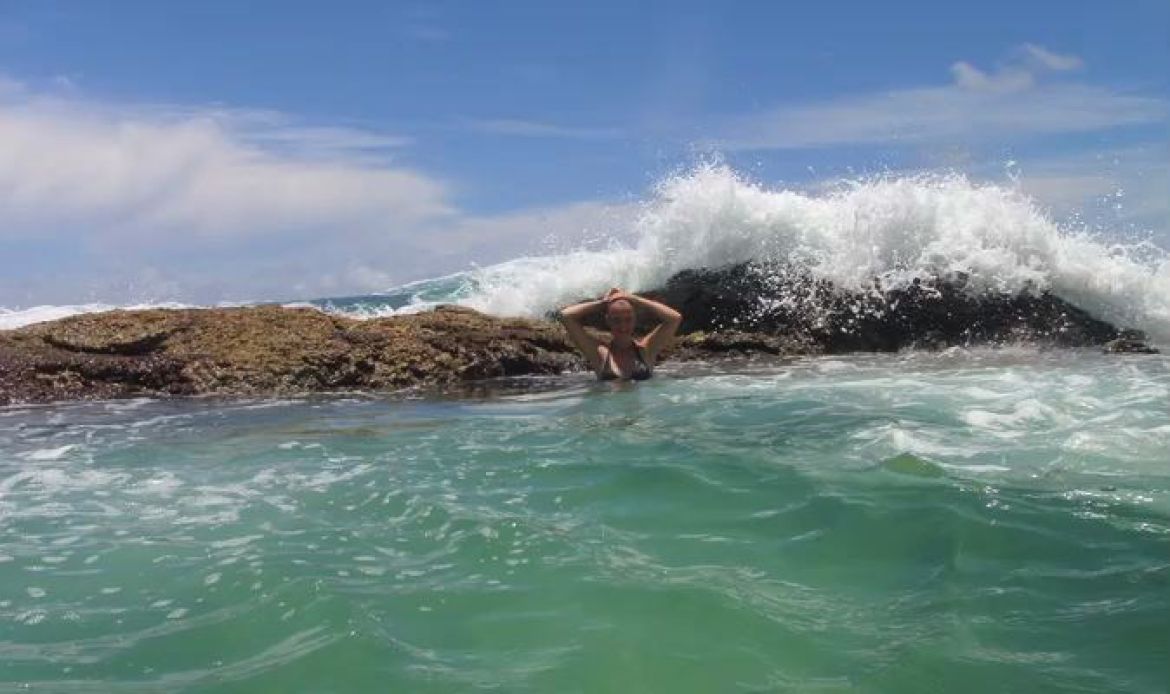 Tin Can Bay
We camped for the night at a small town called Tin Can Bay with a much welcome pool and showers. Driving south back towards Brisbane we drove through an area that can best be described as a pine tree farm. The softwoods are not common in Australia and we saw that many of their trees are thinner around or twisted with burls so we assume that growing pine is done for practical purposes. Like our pines in Manning Park except these are brilliant green and very healthy. Reminded us about why the quarantine rules entering Australia are so stringent. If the pine beetle was introduced here it could easily result in hectares of trees and years of work being lost.
The landscape then suddenly changed again and we found ourselves passing thru rolling hills that reminded us of the Shire from Lord of the Rings. Bright green grass, smaller trees and farm houses.
We were ready for a break from driving so stopped in to Underwater World. These folks make it their mission to rescue turtles and other sea creatures from the fate of fishing net entanglements and plastic consumption. This aquarium was really educational and didn't pull any punches on the brutal situations they find some animals in. Fortunately they nurse many back to health and then release them back into the wild. The one thing we found really strange though is that for all the importance they put on not having plastics end up in the ocean...there was no recycle bins anywhere ! Alex even asked the desk clerk and she shrugged him off. Weird ?!?!
This evening was spent back at the hotel in Brisbane with a nice dinner at a sidewalk cafe and doing laundry so we didn't need to worry about that when we got back to Sydney.