Abel Tasman Nat. Park - 3 day Kayak/Hike Tour
Now for the good part...the tour bus picked us up from our hotel and we met our fellow tour mates. We were lucky as our total group was just 11 people and our guides (4 countries represented). Once we were all gathered, briefed and ready we headed into the National Park and started off. 4 of us elected to kayak and the rest of the group hiked in. Our kayak guide was really great and gave us lots of tips to maximize our efforts and reduce fatigue. We kayaked at least 18+ km and we saw beautiful coast line, mama and baby seals on an island habitat, caves, estuaries and finished off in a very shallow lagoon with rays swimming near our kayaks. We even squeezed a small hike in to a mountain view point. Day 1 finished off at Torrent Bay Lodge and I guess since we booked very early we were fortunate to be given the large bedroom at the front with a full ocean view. The food was terrific and we spent the evening chatting among the group.
Day 2
The ocean was quite turbulent since a storm had rolled in and so we decided that this was better suited to hiking then kayaking. We hiked through beautiful forests stopping at each view point to be stunned again and again at the green/blue water, sandstone coastline and pristine beaches. The 'swing' bridge was a unique part of todays hike. I don't think you would ever get 'tired' of coming around another track corner and seeing these postcard 'beach bays' in front of you. Our hiking guide was very good about sharing bits of info as we went and keeping everyone in good spirit. The hikes were broken up with snack, tea and lunch breaks which was good because some of the climbs were steep and so we were ready for the chance to regain our breath. The weather was abit cloudy and breezy - perfect for hiking since full-sun is not too good for going up and down hills for hours !


At the 2/3 point of the day, our guide offered that anyone who wanted to finish their day could go to the lodge while everyone else would carry on for another 2.5 hour hike. Well, Alex and I looked at each other and almost instantly decided that we'd done enough exercise in the past 10 days so we spent the next few hours watching the tide come in and oyster catcher birds --- we did this with drink in hand on the front porch of Meadowbank Homestead where we once again had the room at the front with ocean view.
The rest of the group arrived back and we had a phenomenal dinner and great conversations. The group really got along great sharing stories of our home countries and we had MANY laughs and a fair bit of teasing throughout the evening.
Day 3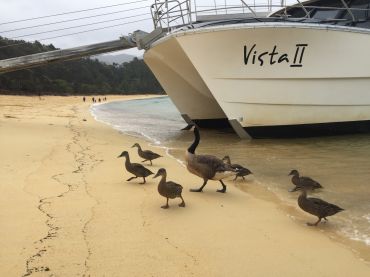 The weather was looking pretty sketchy today but fortunately rain held off until our lunch break and then stopped again just long enough for us to hike the last 20 minutes. During our hike today we were again spoiled with amazing views of huge fern forests, boardwalks and a nice trek along the beach to where our boat picked us up to head back out of the National Park. I was nervous for the boat part since it was over an hour trip and the ocean was very turbulent but I sat outside, went to my 'happy' place and it was fine. We finished off today back at our 'cottage' in the town of Nelson where we stay for 2 nights while we explore. Hope you enjoy the pics and cross your fingers that our baggage eventually catches up with us.
PS- More Photos of Abel Tasman in the
Gallery
.