Wellington & Munchkins
We managed to get up and out the door for the 9 am train into town today so we were feeling pretty accomplished ;-)
After meeting Laurence for a cuppa and a short walk then Shailie and kids headed back home for naps while Alex and I went around town to check things out. We did a bit of shopping and checked out some of the more unique buildings, then headed to the waterfront boardwalk. The city has opened a section of the pier like a small swimming hole - they put in a steep metal staircase and a couple of diving platforms and then people just climb up and jump, dive, or back flip into the ocean water ! It really seemed completely unsafe and a bit crazy but crowds gather around to watch and clap and of course, get splashed. Good fun. The temperature is unusually high in the area right now so that is nice for us as we expected to be wearing longer pants and shirts for this part of the holiday.
We also went into the TePapa museum for a brief peek. The museum is mostly free except for special exhibitions so that is really great for the school groups and to ensure people are aware of the cultural history. It's a massive 6 stories tall so we just went to a section of the Maori exhibits. The intricate wood carvings of the boats and walls of buildings really amazed us as it seemed not an inch was left 'plain'. The weaving of panels on the walls of the huts also demonstrated very nice patterns. They had a boat that was scaled down to make it realistic for display and also had scaled versions of tools, baskets, etc... that would be used on the full scale version so that was very informative.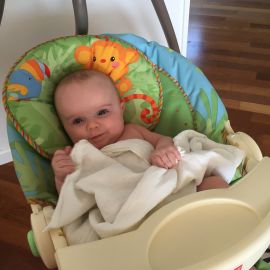 On Tuesday we spent the day at home playing in the kids pool and just took a quick jaunt out for coffees. Sawyer is a pretty serious little baby but he does manage a few spurts of laughing and squealing too. He is very easy going so while
he decided
napping wasn't on the agenda... we were able to bottle feed and play with him while Shailie did some grocery shopping and managed a quick trip to the gym.
For dinner we had really delicious burgers and chips and then down to the beach for some playtime in the ocean. Charlie was not 100% sure on some of the bigger waves but he had a fab time just running up and down the beach too. Sun, Sand and Exercise was plenty for the day and he was pretty sleepy by bedtime.
Alex and Shailie snuck out for some 'photography time' together and while the conditions were not ideal, there was the opportunity for some interesting landscape shots that we don't see at home. Their home 'The Crowsnest' has panoramic inlet views which is mesmerizing and Alex thinks if he lived here, he probably wouldn't get much work done as it would be difficult not to get distracted as every room has a ocean view !