Waitomo Glowworm Caves & Hamilton Gardens
Note: There are no photos in the caves (so they can sell you their fake green screen photos)... so these are a couple I stole online so you get the idea..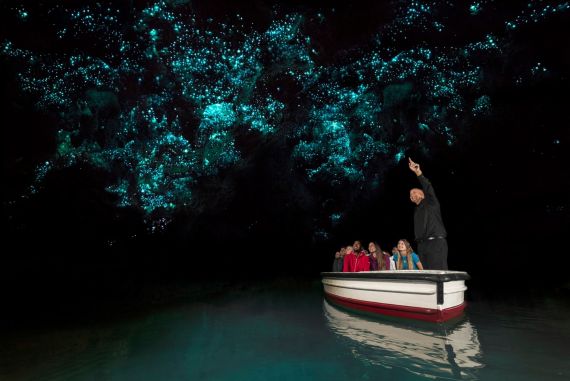 About a month or so before our trip we heard from some friends that the glowworm caves were a 'must see' excursion. We decided to add this to our trip and it certainly was worth abit of extra driving. (Thanks Bill & Brad !) The Waitomo Glowworm caves were discovered in the late 1800's and they were taken over by the government as a tourist attraction in early 1900's. The tour starts with a walk down through the upper cave. Although we have seen stalactite and stalagmite formations before, they are always interesting and in this cave there was a vertical tunnel that was 40+ meters deep ! The highest part of the cave is called 'The Cathedral' and the tour group before us sang their national anthem (maybe Philippines ?)... It sounded beautiful as the acoustics in this part of the cave are perfect. As we descended further we saw the glow worm 'threads' which almost had a crystal look due to the moisture in the air.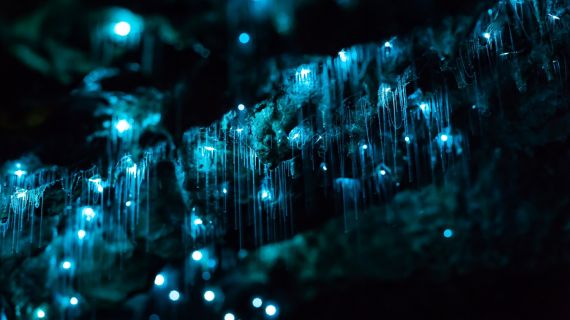 The glowworms spin fine sticky threads that hang down from their bodys as they live in the roof of the cave... and then insects are attracted by the glowworms light and bugs get caught in the threads. Dinner is served !
The next part of the tour is a cavern boat ride in the pitch black silence. The glow worm light is actually it's rear end as it is digesting and excreting it's food. The light is a bluish color and there were thousands of them on the ceiling of the cave - much like a VERY starry night in the woods. The worms have the ability to 'turn off' their glow if they feel threatened so we had to be very quiet and there was very minimal light used in the cave. There is no photography allowed at all so this experience just has to live in our memories.
On our way back to Auckland we made another extra stop at the Hamilton Gardens. These expansive grounds were themed gardens that have examples of gardens around the world and over time. Examples of Japanese, Indian, and Tudor gardens as well as kitchen, herb and sustainable backyard gardens. It was a nice place to stretch our legs abit and it was a 'by donation' entrance fee which we have found to be the case with quite a few things here in New Zealand. There was also a very cool detailed wood carving made up of 3 panels that I think the Lee Valley folks would have loved to see.